| | |
| --- | --- |
| Communications Trailer | |
PO Box 342 Campo, CA 91906-0342
KK6FBC
Who we are. The Mountain Empire Amateur Radio Club, AKA the MEARC is a disorganized bunch of Amateur Radio Operators in the Eastern most part of San Diego County, CA, U.S.A. Our members are scattered over an area of 900 square miles where around 2% of the Counties 3.5 million population lives.
Our Mission. Advance the art and fun of amateur radio.
Repeater
The MEARC Repeater is on the air. June 2019.
This repeater is open to all Hams.
Location, 3M east of Campo, 3000'. Grid Square DM12TP.
146.610, - offset, TX & RX PL 100
Battery backed
Yaesu DR1-X accepting C4FM and/or Analog

Meetings
We are going to try to start meetings again in April or May 2021
Our general meetings are on the 4th Saturday of the month.
Meetings held at the Campo Cafe (old Cafe B) 1247 Sheridan Rd Campo, CA, 12 Noon.
What we do do. Lots. Mostly we are affiliated with local response and public service agencies. Campo Fire and Rescue provided us with a room at the firehouse to put our radios in and more. Go to this link for more details. At the same link you will find information on our local disaster preparedness committee, our local CERT Team and our area communications plan. Several of us are members of the San Diego County Auxiliary Communications Service (ACS) group. Others are trained to work with the San Diego Imperial Chapter of the American Red Cross.
If you are an old, new, or want to be, Ham radio operator and would like more information on our group
give me a call at 619-806-4146 or email to

.
View or download our Constitution and ByLaws here.
Club application:
Click here for the application in Excel format. fill out and email to


Click here to download an application to fill out and mail, Adobe.pdf format.
At the end of 2020 there were over 778,597 Amateur Radio Operators in the U.S.A.
---
2021 Upcoming Events, Training Sessions
PACIFIC CREST TRAIL 50 MILE RUN 2020
Saturday, May 22th, 2021 @ 6:00 a.m.
Postponed. Forest Service not issuing event permits till maybe the fall.
Future Classes
Wildland Fire safety class.
The Incident Command system (ICS) for Hams and working with First Responders.
Introduction to Public Safety Radio and your scanner.
Advanced Public Service Radio.

Training sessions as requested by members
Email Craig if you wish to setup a training class.


---

2019 Pacific Crest Trail Run

Net control in our Communications Trailer. Morning rain. Afternoon sunshine.
Dales Kitchen. Rain, hail, sun. Great test of your rain gear.
Fred Canyon
Fred Canyon. MEARC on the left race crew on the right.
---

2018 Pacific Crest Trail Run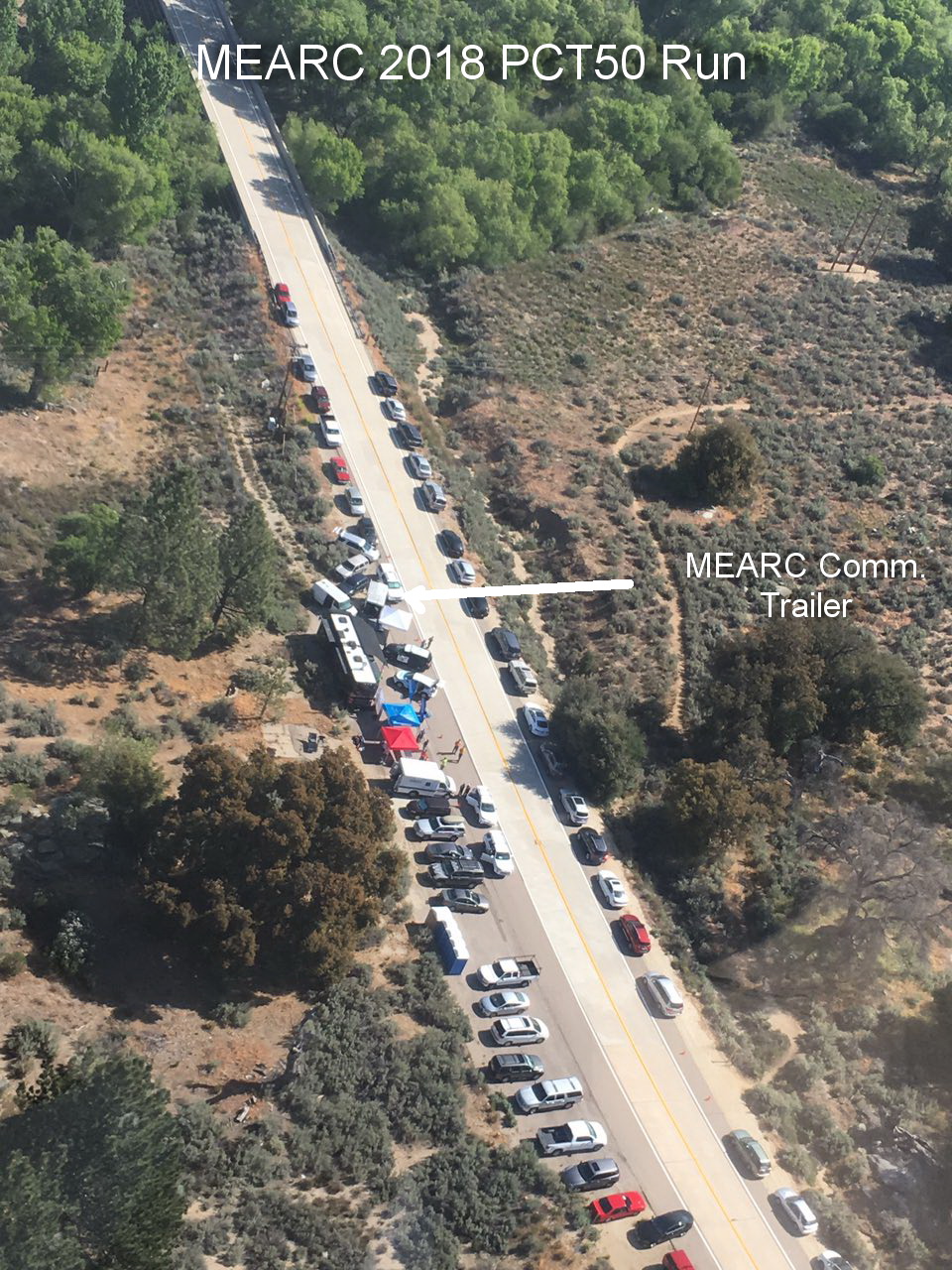 Fly by of Bolder Oaks start point.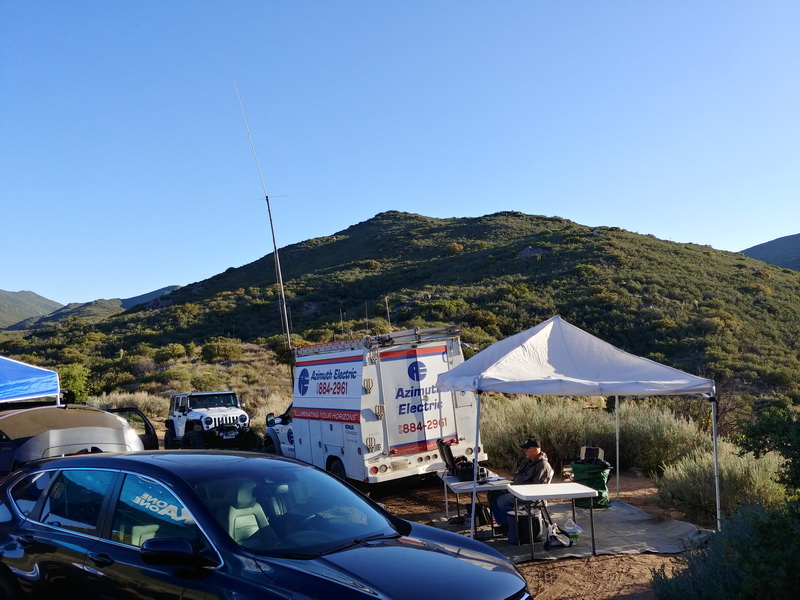 Fred Canyon aid station
---
November 2017 Fry's Operating Day

Over 175 visitors and Hams at the event.

---
May 2017 Club Picnic ( Same for the August Meeting ) We love our picnics.

Thanks to Jon, KJ6NTB, for a great setup.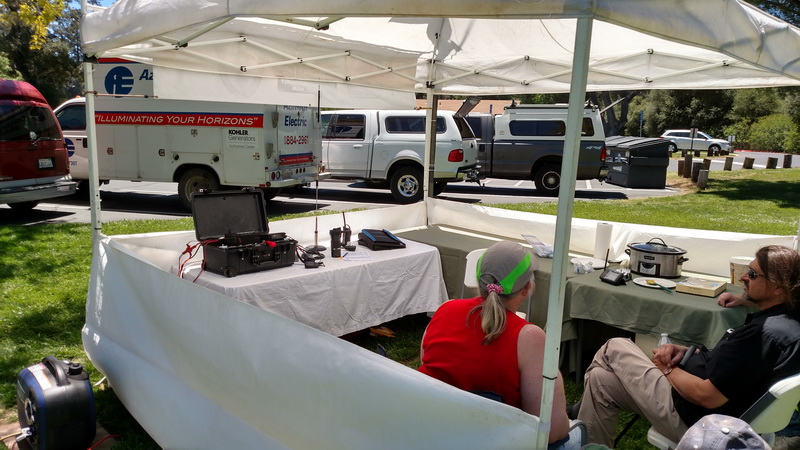 ---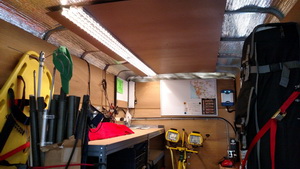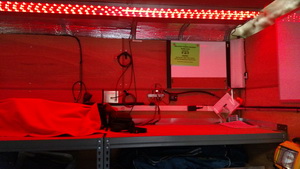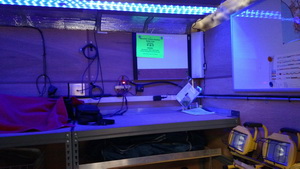 For the 2017 PCT50 Jon, KJ6NTB, updates the trailer lighting.
---
MEARC at the April 2017 County Wide CERT Drill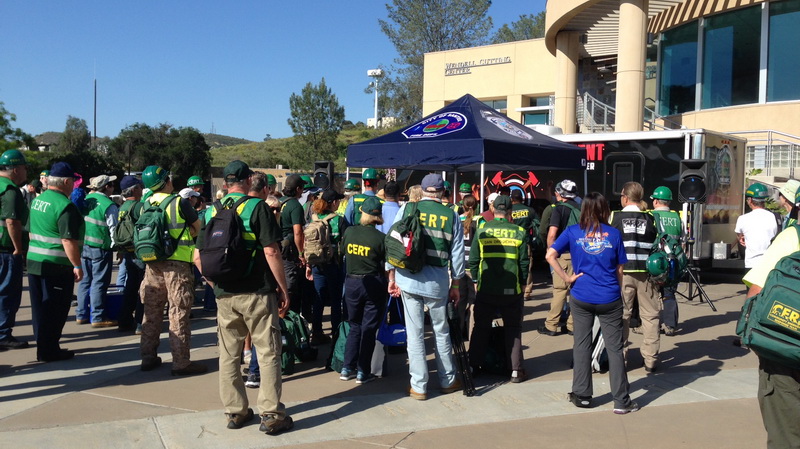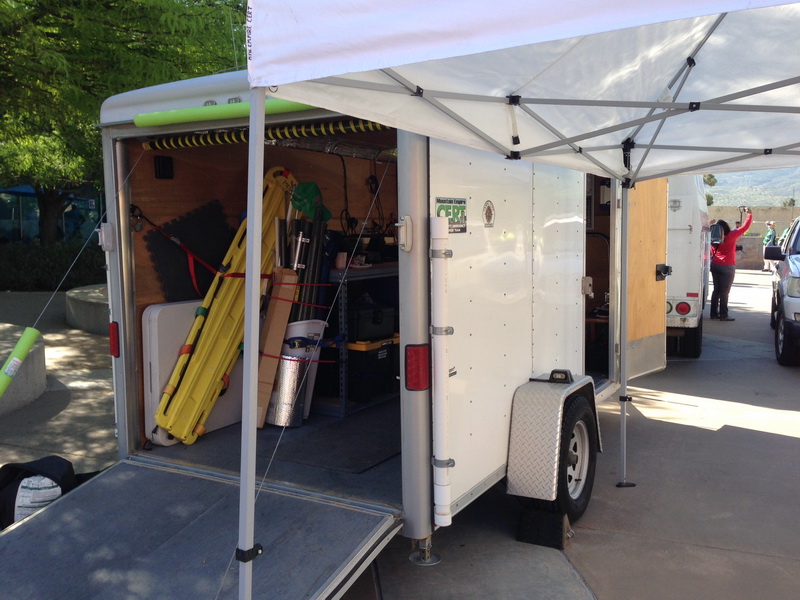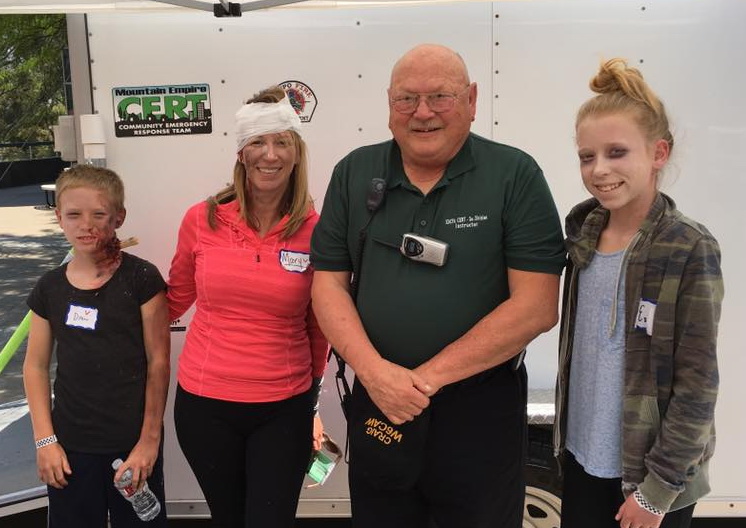 ---
March 2, 2017
Community Disaster Fair, ME High School.
( Only 40 Public showed up but we had fun.)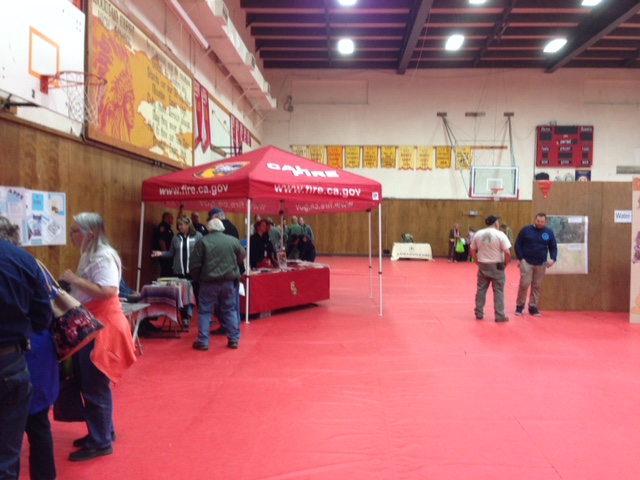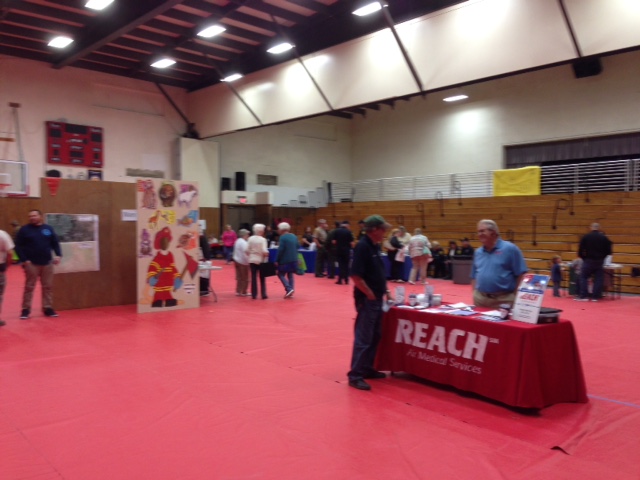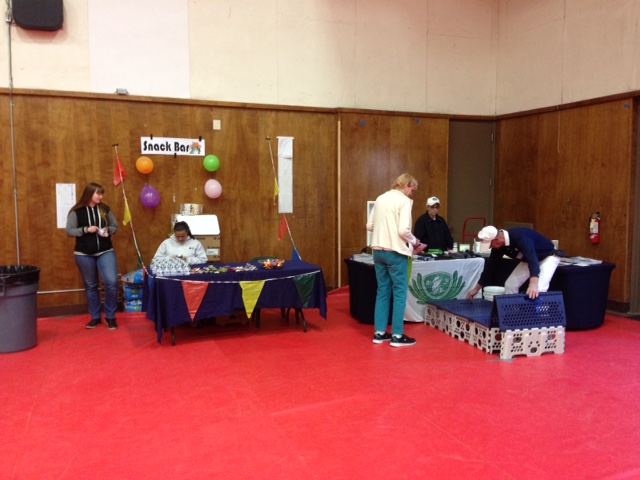 ---
March 21, 2015
MEARC SANDRA Hi Pass Repeater Paint and Cleanup
Follow this link for more.
This photo is too pink. Better color in the link.
---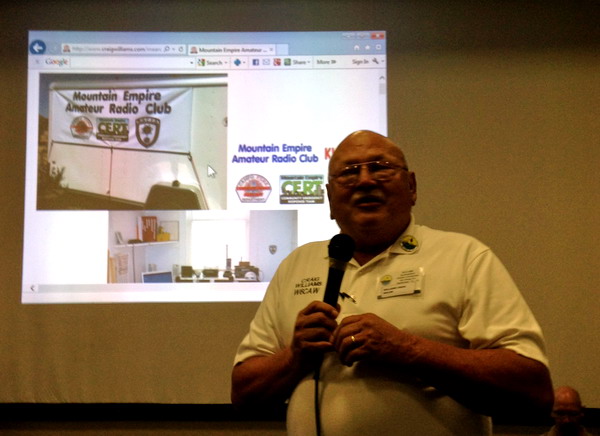 Your President promotes MEARC at the September ARRL San Diego Convention
---
MEARC at the annual Pacific Crest Trail Run May 2014. Click here for details of our outing.
Ditto for 2015, through 2019 so far!
Richard and Marilu at the ready
Follow this link for more photos.
---
MEARC Joins the 2013 ARES Field Day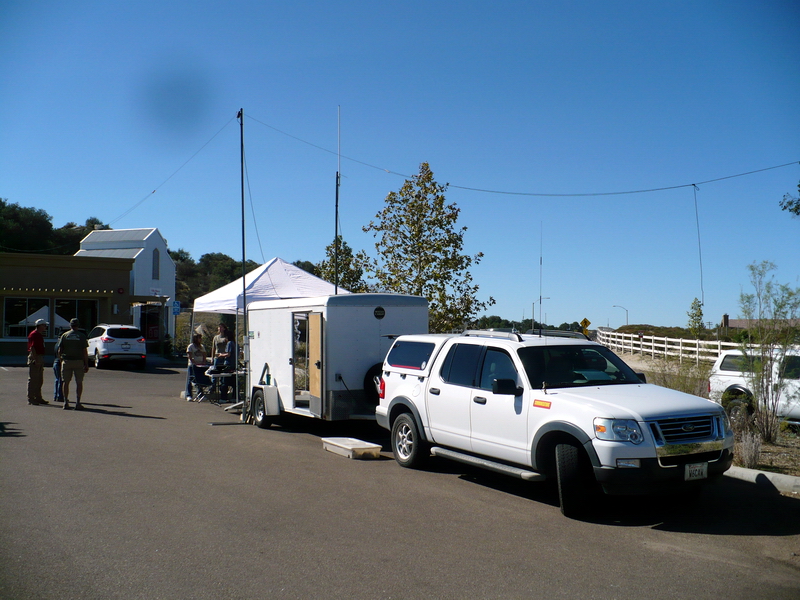 On October 19, 2013 the San Diego / Imperial ARES conducted a "Field Day" We took the MEARC Trailer to the local
Cafe B restaurant to join in the fun. Primary antennas were an 80M Windom folded for 40M for HF and a Comet VHF/UHF
base station antenna. We mount the antennas on those surplus fiberglass poles you see everywhere.
Follow this link for more photos.
---
MEARC Goes to Julian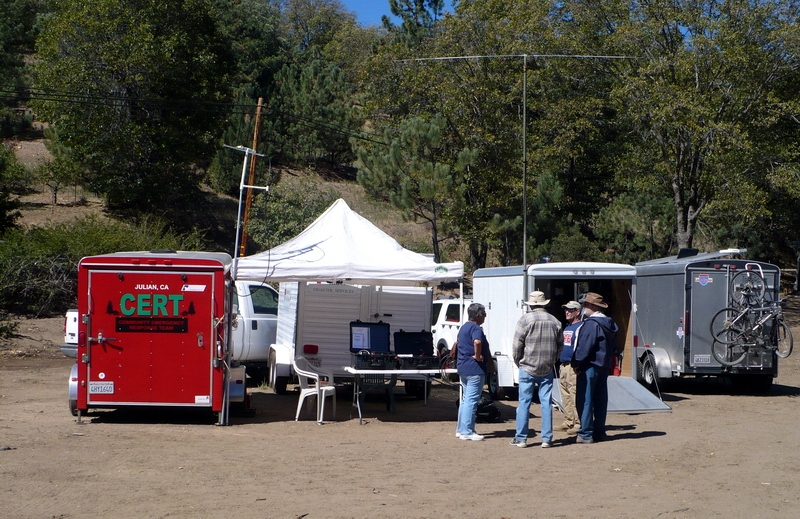 September 28 2013. Fundraiser for the Julian Cuyamaca Fire Department.
Follow this link.
---
MEARC Cleans up the SANDRA Hi Pass repeater site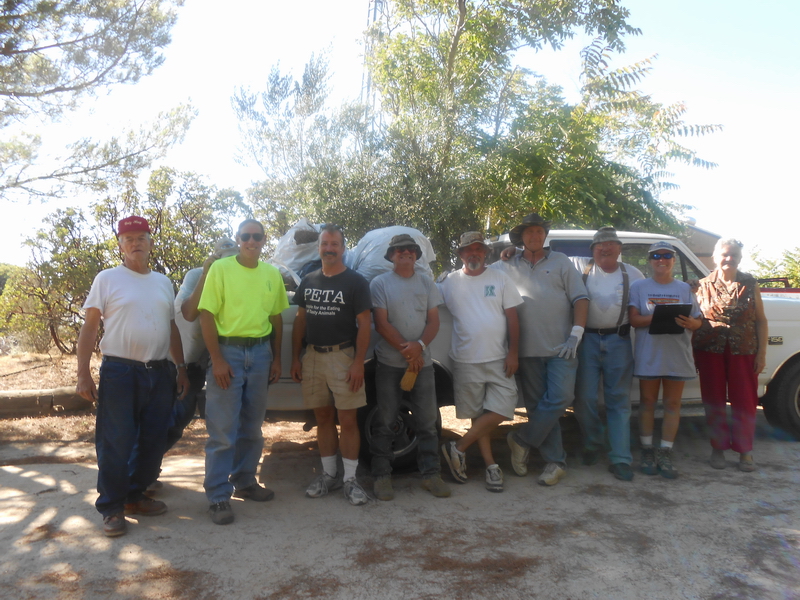 Hams from the MEARC and the Real East County Fire Safe Council. August 2013 cleanup.
---
MEARC assists in the annual Pacific Crest Trail Run May 3013
---
2012 San Diego County, East County first Responders Group
2012 earthquake drill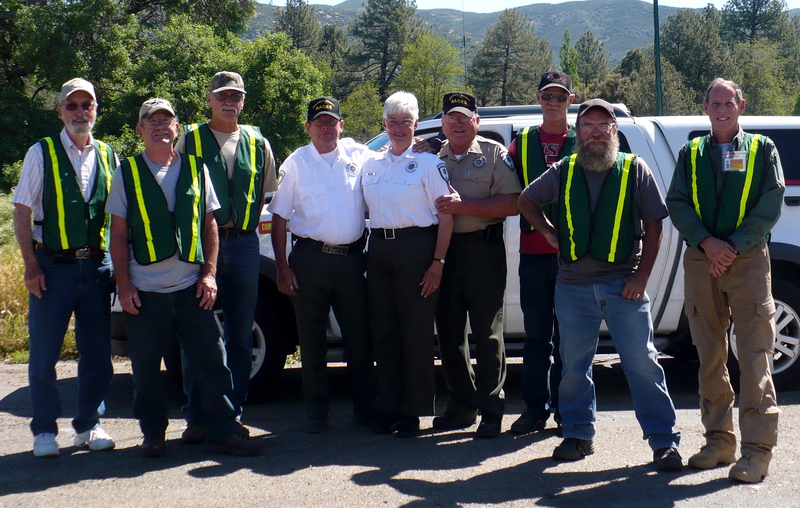 ---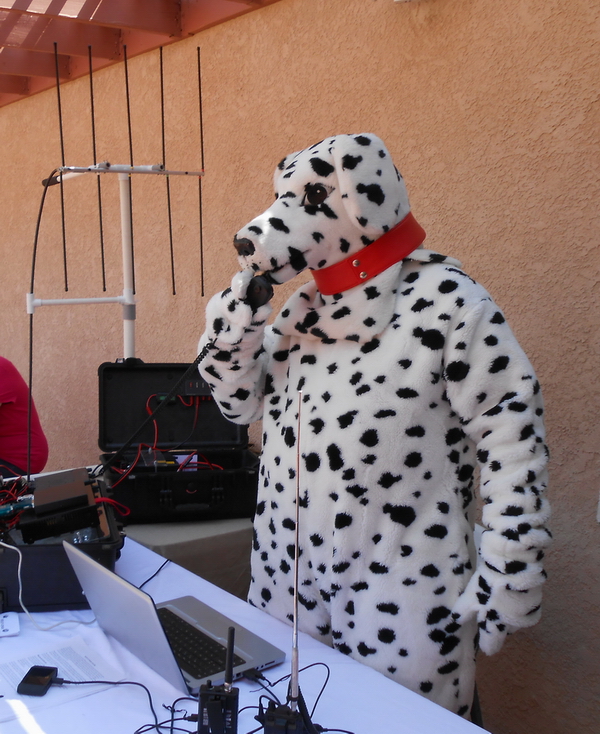 Everyone is trained on proper radio procedures!
Rural CERT FT-8900 Go Kit.
Links
Arlington VA RACES
Manuals, procedures and training.
San Diego East County Scanner Information