Operation Empire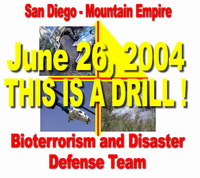 Disaster Preparedness Exercise
June 26, 2004

A summary of the Mountain Empire, June 26, 2004 Disaster Drill
The goal of this exercise was to test Community Disaster Organizational Plans, and the emergency communications capabilities of local communities in the Mountain Empire Area of San Diego County.
The Mountain Empire Area includes communities on Highway 94 from Jamul through Jacumba, on Interstate 8 from Descanso through Jacumba, and South from the Mount Laguna area to the International Border.

Background
During the wild fires of October 2003 several communities in the Mountain Empire Area were used as disaster evacuation locations for displaced people and animals. An after action analysis of these operations showed a need to put in place additional plans and resources, prior to the next disaster, be it in our area or in other areas where we are again used as an evacuation point.

Since October 2003, the Mountain Empire Bioterrorism and Disaster Defense Team has prepared a set of operational plans and procedures to aid local communities in organizing their disaster preparedness efforts. These plans and procedures, are available at this link.
This exercise had two major components.
Opened the Campo Community Center, 976 Sheridan Road Campo, CA 91906 (619) 478-2384, as an Emergency Operations Center / Evacuation Center to test our disaster response procedures.
Opened the Flying "A" Ranch, 1880 Lake Morena Dr, Campo, CA 91906 (619) 478-9144, as an animal evacuation center.
More than 50 people participated in the drill. From 9:30 till 11:00 AM. simulated wildfire, animal and citizen evacuations and medical emergency scripts tested our ability to coordinate people and resources during a disaster.

Amateur Radio stations were setup and manned by RACES, the Radio Amateur Civil Emergency Service, ARES, the Amateur Radio Emergency Service, and local Amateur Radio Operators, at the Community Center and the Flying A Ranch. Messages to support the drill were passed between these locations and, the Red Cross HQ in San Diego, and the RACES ECHO I, mobile communications truck located at the CDF air Attack Base at the Ramona Airport.
Documents developed for the drill
The documents below are in Microsoft Word format. Left click to open or right click to save. ( Links open in a new browser window.) Feel free to use any or all of these to develop your own community drills.
Communications simulation envelopes
Also, see our 2005 Disaster Exercise Page.